Many of tried (and are still trying) to create an eCommerce store. Some have created products on their own while others have relied on such concepts as network marketing and promoting another companies products. But before you rush to create a beautiful site with excellent images and wonderful products, consider just exactly who are you going to sell these products to.



Secure Your Audience
Have you identified your audience yet? Do they know who you are and what you are about before you try to sell them something? This is where majority of stores go wrong when they launch. Starting on such an unstable foundation almost pre-determines the site to become a beautiful mausoleum for products that never find an owner. This forces the founder to scramble to find buyers – heavily discounting products and creating marketing communications that sound more like begging and less like a confident, trustworthy brand that knows what they're doing.
But what if we flipped this around?
What if you built an audience before going through the hassle of taking a million product photos and writing clever SEO optimized product descriptions?
What if instead of launching your store and hoping people will come, you launched only once you confidently knew that 5, 10, or 20,000+ people will be exposed to your site on launch day? Case in point, build your audience first to ensure that the interest will be there in your product.
Sound crazy?
It's what Fab.com did before they went live: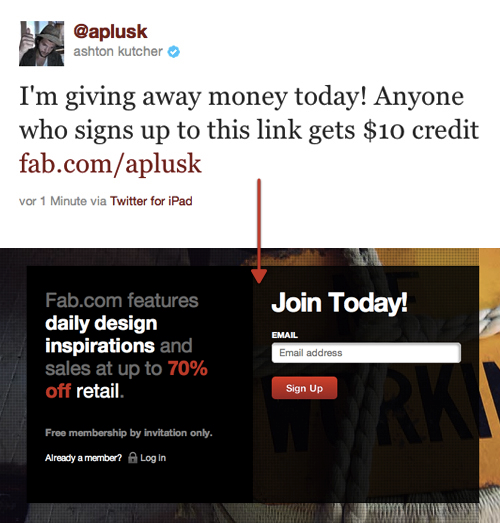 It's what Harry's Razors and plenty of others have done before going live: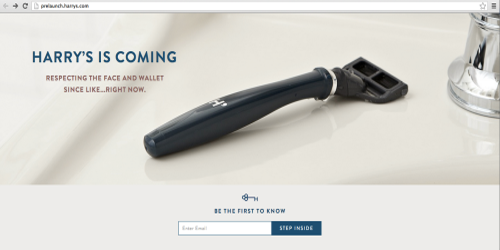 The idea is quite simple: don't launch the store until you've secured the audience.
But how is that possible?
If You Want to Build A Sizable Pre-Launch Audience… Start Early
The real "secret" to collecting 100,000 emails in a single week is hidden in plain sight in this paragraph (emphasis mine)
"Ahead of our launch, Andy and I spent a couple of months meeting friends, entrepreneurs and virtually anyone else who would listen to us talk about Harry's. Whether or not they were interested in razors, we tried to interest them in our story.  That list of people was probably acouple hundred long by our launch, and we created the campaign to help that group of people publicly share in the excitement of our launch."



Catch that?
Jeff Raider and his co-founder spent months securing hundreds of people to talk about Harry's well before their week long pre-launch campaign went live. Put another way, they built a list, that helped them build a bigger list.
Work Backwards From a Goal
In the 9 month period leading up to Mint.com's launch, Noah built a contact database with the top 25 most influential finance bloggers.
Having this allowed him to continually build relationships with these influential bloggers while he also grinded away at more day-to-day marketing tasks such as:
Sponsoring smaller blogs with passionate readers
Paid advertising
Split testing landing page messaging to see which yielded the best result,
Used referral marketing mechanics to tap into friend networks.
Having 9 months of lead time allowed Noah to introduce people with an audience to an unknown brand, explain the benefits, and leverage their contacts to build a pre-launch email list of 20,000 really excited people.
And while Noah's initial task was to have 100,000 users 6 months after Mint.com launched, the momentum from those initial efforts ended up securing Mint 1 million users in that same time frame.
For you, it's important you determine how big that pre-launch list needs to be in order to have a "successful" launch. Avoid pulling an arbitrary number out of thin air, but instead use industry conversion rate benchmarks to reverse engineer the amount of people you need to launch to in order to have a profitable first day.

[fbcomments url="http://urbanmoney.org/project/the-real-secret-to-launching-a-successful-ecommerce-store/" width="790″ count="off" num="30″ countmsg="wonderful comments!"]